.
This Breguet deck watch was made for the French
Navy.
.
"Aéronautique Navale".
BREGUET delivered less than 50 watches in 1958.
Cette montre BREGUET fabriquée pour la Marine Nationale "Aéronautique Navale" fut produite en 1958 en moins de 50 exemplaires.

The back of the steel case is screwed.
Fond vissé de la boite en acier.
.


The back unscrewed provides protection against dust.
Le fond dévissé montre le cache poussiére.
.


The watch was delivered in a wood box .
La montre fut livrée dans un coffret en acajou numéroté.
THE CALIBER - LE CALIBRE
The caliber is made on the base of a VALJOUX 5, a 24 hours chronograph caliber famous for its precision; Heuer used it during the 50s.
Le calibre est un VALJOUX 5, mouvement chronographe 24 heures repris ici partiellement. Ce calibre réputé pour sa précision, fut également utilisé par HEUER dans les années 50.

The caliber seems incomplete because the chronograph parts have been taken off by BREGUET who kept only what was necessary to give a very precise hour.
This caliber was choosen for its 24 hours fonction and its exceptional capacity for adjustment.
Le calibre semble incomplet puisque Breguet n'en a pas assemblé les pièces destinées à la fonction chronographe.
Ce calibre fut retenu par BREGUET parce qu'il offrait une fonction 24 heures et s'avérait d'une précision exceptionnelle.

.
Another anonymous 24 hour watch...
Une autre montre anonyme trés différente...

This watch was probably created during the 20s.
Cette montre date probablement des années 20.



The characteristics of the caliber are engraved in the case.
Dans la boite, les caractéristiques du calibre.

-----------------------o0o-----------------------
--------------------------------------------------------------------------------------------------
IWC
IWC was founded in 1868 by Florentine Ariosto Jones watchmaker in Boston. The factory is located in Schaffhouse with the project to make watches for American market. IWC made caliber for Elgin. IWC made military watches for several countries.
IWC fut fondé à Schaffhouse en 1868 par Florentine Ariosto Jones horloger à Boston. L'objectif était de livrer des montres sur le marché Américain. IWC fabriqua notamment des calibres pour Elgin. La marque livra les armées de plusieurs pays.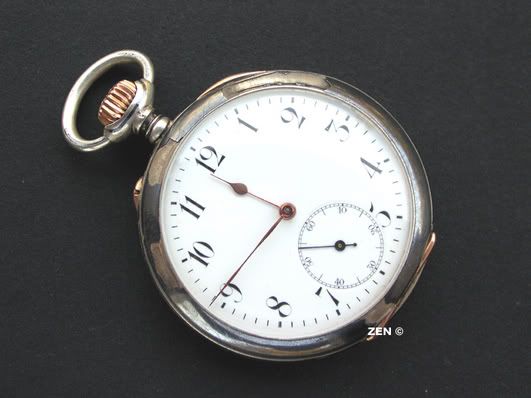 The dial of this IWC pocket watch made around 1920 is anonymous.The case is made of silver.
Le cadran de cette IWC de poche faite vers 1920 est anonyme. La boite est en argent.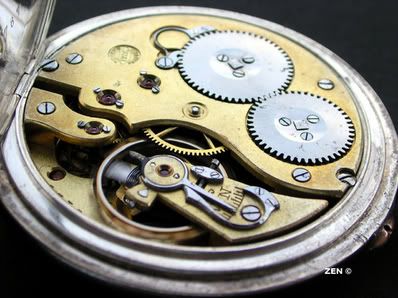 The caliber IWC with screwed setting.
Le calibre IWC à chatons vissés dispose d'un barillet à arrétoir de type croix de Malte.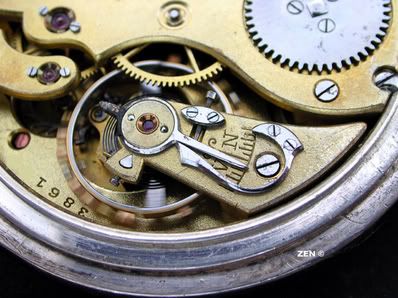 The regulator is very specific to IWC.
La raquette est très spécifique à IWC.
-----------------------o0o-----------------------
A STOP WATCH WITH SPLIT SECOND.
UN COMPTEUR DE SPORT AVEC RATTRAPANTE.

MINERVA

Colored dial and hands for this split Second.
Cadran et aiguilles très colorées pour un repèrage aisé.

No hour on this Stop Watch.
Un compteur de qualité mais il ne fait que mesurer des temps courts.

Caliber 9 jewels made by MINERVA.
Calibre MINERVA 9 rubis.
.
ON PARLE DE TOUTES LES MONTRES SUR FORUMAMONTRES (lien dans l'image)